Recent SunLife study finds quarter of a million over 50s turn to cosmetic surgery
13 October 2017
By Plastic Surgeon Dr Dirk Kremer.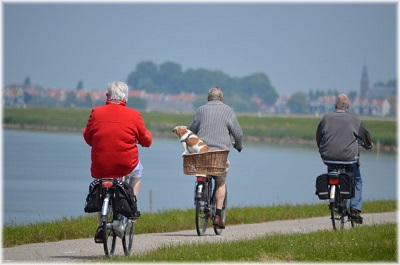 In this modern world, we are no longer ageing like generations of the past. Instead, we are living for longer, feeling healthier for longer, and remaining active for longer. Therefore, it should really come as no surprise to find that we're also doing all that we can to ensure that we look fantastic for longer. This is backed up by researchers who carried out a detailed study to discover how attitudes change towards our lifestyles as we reach the big five-o, with a high percentage of Brits over the age of 50 finding enjoyment from looking the best they possibly can.
What emerged was the fact that close to a quarter of a million Brits aged 50 or over have undergone plastic surgery, with many opting for cosmetic surgery procedures such as tummy tucks and facelifts, to roll back the years as they attempt to look as young as they feel.
Many over 50s are enjoying life more than ever
50,000 people took part in the SunLife Big 50 study, as part of SunLife's Welcome to Life After 50 campaign, and six out of ten claimed to be enjoying the best time of their life, while almost 80% said that growing older has meant that they no longer worry about the opinions that other people have about them.
Ian Atkinson of SunLife commented:
"While some over 50s are feeling the pressure to stay young, most don't actually care what other people think and are happy just living their lives to the full. This includes making more of an effort to eat well and exercise more regularly than they did when they were younger which suggests that far from feeling 'over the hill', people aged 50 and over are making sure they are fitter than ever, so they are free to do what they want to do. Some people still believe that turning 50 is something to worry about, that life slows down after that – but after conducting the UK's biggest-ever study with 50,000 people over 50 we know that's not the case at all: for many, life after 50 is the best time of their lives."
Turning 50 can influence big lifestyle changes
Interestingly, the study also revealed that many people choose to make big lifestyle adjustments upon reaching the 50-year landmark. It seems to launch a health kick, as many smokers decide it's time to quit, people begin to monitor their food a lot more closely and begin to choose healthier options, regular exercise becomes part of their new lifestyle, and those who are fond of drinking alcohol attempt to cut down.
Turning 50 and ensuring you take control of your health and wellbeing before it's too late seems like it can certainly have you feeling fantastic inside, and better than ever before. So, if you're feeling that great on the inside, it's no wonder so many over 50s want that to translate onto the outside with a cosmetic surgery procedure that turns back time!
If you're over 50 and enjoy the idea of turning back time, be sure to consider my signature TBT surgical procedures, the TBT-Facelift and the TBT-Eyelift. I also offer a wide range of other plastic surgery procedures, such as my award-winning necklift, signature E-lipo and Split Muscle Breast Augmentation. Alternatively, if you'd like something a little less intrusive, you may be interested in Botox or dermal fillers to improve the appearance of any fine lines and wrinkles. To book an initial consultation so that we can discuss your options, please do get in touch with me today.
x
Virtual Consultations
Dr Kremer is now accepting virtual consultations, via Skype or WhatsApp. If you would like a virtual consultation, or would like more information, simply get in touch with us via phone, email or through our contact form and we will schedule a date and time for your consultation.