Lips
Various fillers have been used in recent decades for lip correction. Today, the most common fillers are collagen and hyaluronic acid, natural substances in the body. Under local anaesthesia, you can emphasize the lip, whilst at the same time reupholstering the wrinkles around the mouth or lip. However, fuller lips can be also be achieved by injection of fillers in the dry-wet boundary of the lips, with the fullness of the lips decided upon by yourself.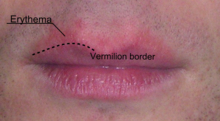 Whilst this is often desirable in women, in men this effect should be avoided at all costs. You should make sure that your doctor has sufficient experience in the area of the lips such as the plastic surgeon Dr Dirk Kremer.
After the treatment
After treatment, your lips will be swollen for a few days, with the final outcome clear after roughly 1 week. If you still want your lips a bit fuller, a subsequent injection can be administered at any time. The results last 3-12 months depending on the filler substance used.
x
Virtual Consultations
Dr Kremer is now accepting virtual consultations, via Skype or WhatsApp. If you would like a virtual consultation, or would like more information, simply get in touch with us via phone, email or through our contact form and we will schedule a date and time for your consultation.