How eyelid surgery can rejuvenate your look
01 September 2023
By plastic surgeon Dr Dirk Kremer.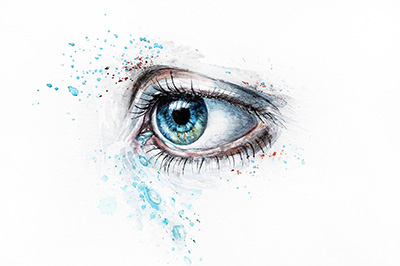 In the realm of plastic surgery, few cosmetic procedures have the power to rejuvenate the face as profoundly as eyelid surgery, scientifically known as blepharoplasty. As a certified plastic surgeon with extensive experience, I am eager to guide you through the intricate details of this transformative procedure.
This article is designed to demystify eyelid surgery, enlightening you about its benefits, the procedure itself, and what you can expect from this remarkable cosmetic enhancement that I offer here at Harley Street Aesthetics.
Unveiling the importance of eyelids
Your eyes are not only the focal point of your face but also the mirrors of your emotions. Over time, however, the delicate skin around the eyes can start to sag, leading to a perpetually fatigued or aged appearance that may not resonate with your inner vitality.
The marvel of eyelid surgery
Blepharoplasty is a surgical marvel that counteracts the signs of aging around the eyes. This procedure involves the meticulous removal of excess skin, coupled with muscle tightening and sometimes repositioning of fatty deposits. The precision of this approach restores the natural contours of your eyelids, effectively eliminating puffiness and reducing the appearance of fine lines, all while ensuring your unique facial expressions remain intact.
Functional perks of eyelid surgery
Beyond the aesthetic advantages, eyelid surgery offers functional benefits too. As time goes on, the surplus skin on upper eyelids can actually obstruct your vision, causing discomfort and hindering eyesight. Eyelid surgery can alleviate this concern, restoring both your visual clarity and youthful appearance.
Read: Is eyelid surgery worth it?
Embarking on the transformation journey
Your journey towards eyelid rejuvenation commences with a comprehensive consultation. During this tailored session, I will assess your individual needs, preferences, and medical history. This collaborative approach ensures that the treatment plan we create is aligned with your expectations, resulting in a successful and satisfying rejuvenation process.
Upper and lower eyelid procedures
Eyelid surgery is divided into two main categories: upper and lower eyelid procedures. The upper eyelid procedure concentrates on eliminating excess skin and tissue responsible for hooding and drooping. Conversely, the lower eyelid procedure targets puffiness and under-eye bags, crafting a smoother and more youthful under-eye area.
Mastering the art of subtle enhancement
At the heart of Harley Street Aesthetics, my philosophy revolves around the subtlety of enhancement. My approach to eyelid surgery is an art form, dedicated to achieving results that beautifully enhance your unique features - as highlighted by my signature TBT-eyelift procedure. Post-surgery, your eyes will continue to express your emotions naturally, underscoring the essence of your character.
Navigating recovery and revelations
After your eyelid surgery, a short recovery period is to be expected. While some swelling and bruising may occur initially, these temporary effects will gradually diminish, revealing the revitalised and rejuvenated appearance you desire. Following post-operative care instructions and attending follow-up appointments will ensure a smooth recovery and optimal results.
Restoring confidence from within
Eyelid surgery is not merely a physical transformation, but a journey towards rediscovering your confidence. The rejuvenation of your look can lead to a renewed sense of self-esteem and empowerment. As the changes unfold in the mirror, your newfound radiance will resonate from within.
In the realm of cosmetic surgery, blepharoplasty shines as a procedure that can remarkably rejuvenate your appearance. Your eyes, the storytellers of your emotions, deserve the meticulous care that eyelid surgery can provide. I encourage you to embark on this transformative journey, as we harness the power of precision, innovation, and the art of subtle enhancement to restore your look and elevate your self-assurance.
Read: Important things to know about eyelid surgery
If you'd like to discuss eyelid surgery with me and find out if it could be the perfect procedure for you then simply book in for an initial consultation. Call 0845 519 7232, e-mail info@harleystreetaesthetics.com or complete the online enquiry form.
x
Virtual Consultations
Dr Kremer is now accepting virtual consultations, via Skype or WhatsApp. If you would like a virtual consultation, or would like more information, simply get in touch with us via phone, email or through our contact form and we will schedule a date and time for your consultation.