Facelift and Necklift surgery - a patient's story
07 January 2022
By plastic surgeon Dr Dirk Kremer.
I find that one of the best things about being a plastic surgeon is all the wonderful feedback I receive from patients. Depending on the procedure, this feedback is usually received several months after the surgery when my patient has fully healed and able to appreciate the final result but being told how the procedure has changed their life for the better and has invigorated their self-confidence is magnificent.
Very recently I received some incredibly kind words from a client named Kat, after she had chosen to undergo facelift surgery and found herself thrilled with the results. Kat was kind enough to share her very honest story through an in-depth review about her entire experience with Harley Street Aesthetics over on my RealSelf profile.
I would also like to share Kat's story here as I believe it is something that may resonate with many people who are experiencing the same physical effects of aging as Kat was noticing, and who have been considering both their cosmetic surgical and non-surgical procedure options.
Noticing the visible signs of aging
Back in 2020, Kat celebrated her 45th birthday and was becoming increasingly aware of the all-too-familiar signs of aging that everybody around this age or above can sympathise with. She particularly noticed the changes that were taking place around her face, with everything appearing to slowly drop, jowls beginning to form, and loose skin becoming more and more evident around her neck.


Images pre-surgery:



In our 40s, the visible signs of aging can accelerate passed the lines and wrinkles we typically begin to notice in our 30s.
These changes were having a profound effect on her daily life and the simple choices that she was making. For example, clothing decisions began to change as Kat found herself regularly opting for turtlenecks instead of the clothing attire she'd have previously worn, and when she thought back on conference calls she'd been involved with during work she realised that she was now unconsciously doing things to cover her neck area.
Many of you reading this may have your own tricks that you perform during social situations in an attempt to divert people's attention away from the things that you feel self-conscious about.
Although Kat was conscious of the physical changes that were happening, she wasn't totally surprised, as her mother had suffered the exact same visible effects of aging meaning Kat was always aware of what the future may potentially hold.
Understanding that a healthy lifestyle can't combat aging
Unfortunately, being lucky enough to have overall healthy skin, a clean diet, avoiding smoking and doing regular exercise - all of which relate to Kat - still isn't enough to combat the signs of aging. This is something that troubled Kat. In fact, she was no stranger to cosmetic procedures as since the age of 37 she had been regularly receiving botox injections to successfully battle fine lines and wrinkles. She had also attempted a non-surgical facelift with the use of dermal fillers, but felt the results left her looking slightly puffy instead of the more youthful, yet very natural, younger appearing version of herself that she was looking for.
This all resulted in Kat having heartfelt conversations with her immediate family about how the effects of aging were having such a negative impact on her self-confidence. Following these many discussions, she made the decision to take a serious look at the cosmetic surgery options that were available to treat the signs of aging on the face and neck.
Considering cosmetic surgery options for aging to the face and neck
This all took place during the worst of the Covid-19 pandemic, with lockdowns and restrictions providing Kat with the opportunity to work from home. She saw this as a great opportunity to potentially undergo some type of surgery and quietly recover in the comfort of her own home without much disruption or concern to her daily life.
Therefore, in April 2021, Kat began to explore her surgical options and booked in a virtual consultation with myself to discuss her story in detail. During the consultation, with her husband by her side, they asked me all of their concerning questions to gain some knowledge and my professional opinion on a range of matters related to face and neck surgery, and in particular, my signature TBT facelift and necklift surgeries and how procedures can be combined together during the same surgery.
From what the surgeries involved and details of the healing process, through to the sort of results I believed we could achieve with Kat, I felt it was important for her and her husband to receive all of the relevant information so that together they could discuss things after our consultation and allow her to reach an informed decision on what she would like to do moving forward.
Kat took some time to consider the pros and cons of each procedure during the following days, eventually deciding that she would like to go ahead with the combination of both my TBT facelift and necklift procedures. When performed on the right patient, these two procedures can complement each other fantastically well.
Undergoing the signature TBT facelift and necklift surgery
In June 2021, a nervous Kat arrived at Harley Health Village on Harley Street, London, for her surgery. We appreciate that awaiting surgery can be an extremely anxious time, so we try to minimise that wait as much as possible. Following some pre-op checks we quickly took Kat into theatre and fortunately her surgeries went perfectly well - just as I had expected.



Images post-surgery:




Kat noted the detailed after care that we provide our patients and what she experienced during her night's stay at the Harley Health Village following her surgery. She was pleasantly surprised at the fact the bruising, swelling and pain was not as bad as she was expecting, though I did warn her that many patients feel things tend to peak in this department around 3 days after the procedure.
Days, weeks, and months following the surgery
The following morning, I examined the areas where I had carried out the surgeries and discussed how Kat felt. Naturally, she was feeling very tired and needed plenty more much deserved rest but was well enough for us to discharge her so that she could continue her recovery at home. Kat did notice the expected increase in bruising, swelling and mild pain, but noted that this didn't continue to worsen after the 3rd day. She was also lucky enough to have her loving family at home ready to help and offer her assistance whenever it was required.
By day 4 of her recovery, Kat was already back at her desk working from home - though taking things extremely slowly and finishing early when necessary. I explained to Kat that she may see things improve from around day 5 onwards, and upon reflection this is something she agreed with and was even walking 2 miles a day by this point to gently ease herself back into some form of activity.
By day 8, she was taking conference calls again, after 2 weeks the majority of the bruising and swelling had subsided, and by the time she had reached week 5 of recovery she was lightly weight training again up to 4 days a week while being sure to not place any excess stress on her neck.
Images comparing before and after surgery:




Kat did experience some of the very common temporary side effects of a facelift and necklift both during and following recovery, such as irregular looking stretched skin in some areas and intermittent pins and needles in the cheek and close to the ears, but these had all begun to subside within the timeframe we would expect.
Overall, Kat was delighted with the results of her TBT facelift and necklift surgery and was left with no regrets - so much so, she was happy to leave her honest review and share her very intimate story with not only her immediate family and myself, but also publicly with those who may be considering the same procedures.
Image post-recovery: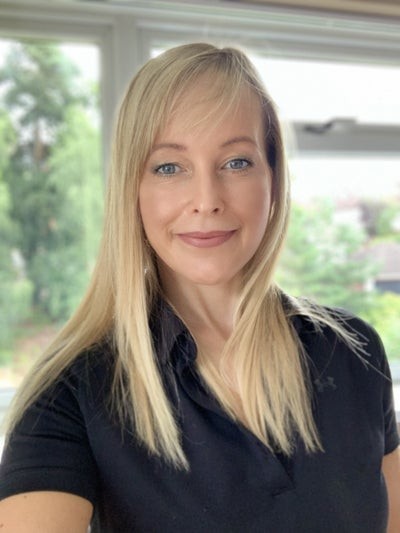 If you'd like to discuss facelift or necklift surgery or would like to learn more about any other cosmetic surgery and how it could be right for you, don't hesitate to get in touch to book in your initial consultation with me here at Harley Street Aesthetics. Simply call 0845 519 7232, e-mail info@harleystreetaesthetics.com or complete the online contact form.
x
Virtual Consultations
Dr Kremer is now accepting virtual consultations, via Skype or WhatsApp. If you would like a virtual consultation, or would like more information, simply get in touch with us via phone, email or through our contact form and we will schedule a date and time for your consultation.