What is driving Millennials to Botox and dermal fillers?
25 May 2018
By Plastic Surgeon Dr Dirk Kremer.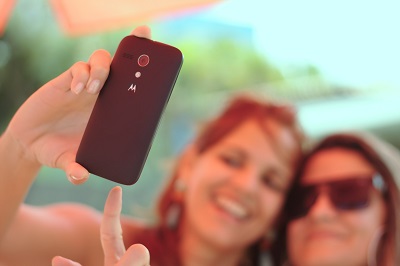 With a constant flow of perfect faces and beautifully sculpted features filling our TV screens, movie theatres and social media streams, it's no wonder non-surgical cosmetic treatments such as Botox and dermal fillers are soaring in popularity among Millennials across the UK. It's a similar story across other parts of the world, and recent research in the US has looked at what is driving Millennials to undertake these non-invasive treatments that were once known to specifically target the older generations.
Main influences include TV celebrities, social media and selfies
According to the American Academy of Facial Plastic and Reconstructive Surgery (AAFPRS), the main influences driving Millennials to seek out Botox injections include TV celebrities, social media and selfies. People working or writing within the cosmetic industry are dubbing it "The Kardashian effect" and "Selfie Mania", two terms you may already be familiar with if you're a media-conscious Millennial yourself.
The American Society for Aesthetic Plastic Surgery (ASAPS) say that the number of women in the United States aged between 19 and 34 receiving Botox treatments has risen by 41% since 2011. Men seeking out the treatment is also on the rise, with them accounting for 10% of all users and leading Botox for men to now being called "Brotox".
Figures show that non-surgical treatments are just as popular in the UK
The cosmetic surgery industry in the UK is currently worth around £3.6 billion, and beauty treatments such as Botox and dermal fillers account for 9 out of 10 procedures, with a worth of around £2.75 billion. These figures are impressive and show just how popular non-surgical treatments are, but the one worry is the fact that the industry is almost entirely unregulated. This means that treatments can be provided by anyone, regardless of their knowledge, expertise or qualification.
So, how can you be sure that your practitioner is properly trained, and not just someone who is putting you in danger of poor results and poor safety, with no idea what to do if things were to go wrong?
Let's break it down for you and go back to the basics:
What is the difference between Botox and fillers?
Both are injected into the face, or features of the face, but they are both injected for different reasons. Botox is injected to relax the facial muscles. The aim is to eliminate wrinkles around your forehead, and smooth out frown lines and crow's feet. Fillers are injected into creases and hollow areas of the face to plump and fill, such as lips and cheeks.
What can go wrong with these cosmetic treatments?
If these treatments are carried out by people who aren't trained to an adequate standard, then they may inject the substance into the wrong area. If this happens, then best case scenario is that they have zero effect. But, if this was to happen around the frown lines, it can cause a droopy eyelid which might last for weeks or even months. There is a risk of bleeding, lumpiness, infection, swelling, bruising or an allergic reaction. There is also the risk of the practitioner paralysing the face unevenly, so doing your due diligence and choosing a reputable practitioner is extremely important.
Things you should look out for:
The cost. It's worth researching the cost of treatments in your area, as this can often be the biggest giveaway. If the treatment from one clinic or practitioner seems to be a fair amount cheaper in comparison to others, then it's highly likely that corners are being cut somewhere along the line.
The clinic/premises. You should make sure the treatments are conducted in a medical environment. Some practitioners have been known to administer the treatments in a kitchen or dining room, and even from a garden shed.
Qualifications and experience. You can check on your practitioner of choice by checking with the GMC or Nursing and Midwifery Council. Check out their online reputation by reading reviews and browsing through their website. If you know someone that has used them in the past, pick their brains for an opinion.
Promotions and discounts. Be wary of any promotions or discounts. It doesn't instantly highlight a rogue practitioner, but many of them have been known to promote heavily through social media and advertise through discount voucher websites. It's just something to remain mindful of.
Consent. A reputable clinic or practitioner will always ask you to sign a consent form. If you aren't asked to sign one, then something isn't right.
Medical history enquiry. Questions should be asked regarding your medical history, such as information about any medication you're taking, allergies, drinking and/or smoking habits etc.
Arm yourself with appropriate questions.
Do they have insurance?
What will happen if something was to go wrong?
What happens if you're not happy with the results of the treatment?
Is there any warranty period?
If you're considering a cosmetic treatment, either non-surgical or surgical, then get in touch today so that we can discuss it and book you in for an initial consultation. You can contact us by calling 0845 519 7232, sending an email to info@harleystreetaesthetics.com or by completing our simple online enquiry form.
x
Virtual Consultations
Dr Kremer is now accepting virtual consultations, via Skype or WhatsApp. If you would like a virtual consultation, or would like more information, simply get in touch with us via phone, email or through our contact form and we will schedule a date and time for your consultation.