South Korea: Cosmetic Surgery Capital of the World!
30 October 2015
By Plastic Surgeon Dr Dirk Kremer.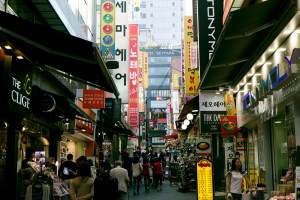 In 2010, data compiled by the International Society of Aesthetic Plastic Surgery (ISAPS) showed that South Korea was the country with the highest per capita rate of plastic surgery procedures in the world. Of the 20 million cosmetic procedures performed globally in 2014, South Korea accounted for nearly one million of them, a huge number in a country of 50 million people!
Annually, the plastic surgery industry in Seoul brings in around $5 billion for the South Korean economy, and there are even advertisements on subway billboards. It should be clear that there is a different culture towards plastic surgery in South Korea than we're used to here in Britain and in many other western countries.
A double-edged sword
Part of the reason why plastic surgery is so popular in South Korea is because the country has an extremely competitive society; in fact, when applying for jobs, applicants submit headshots with their resumes, and attractiveness, especially for women, is seen as a sign of competence – so much so that women have been known to Photoshop their headshots!
The same is true of beauty pageants, with one former contestant saying that a majority of her peers underwent some form of cosmetic work, and that judges looked upon it positively.
The most popular aesthetic procedure in South Korea is blepharoplasty, or the double eyelid surgery; in fact, it is the most popular procedure in the world according to ISAPS, with 1.43 million people having had the operation in 2014; it is also one of the cheapest cosmetic procedures available, and is popular among both men and women.
Some people see the popularity of this procedure in South Korea, along with the increase in the number of people undergoing plastic surgery in general, as an attempt to westernise their appearance, though this is hotly debated. What's for certain though, is that South Korea is a country where plastic surgery has become commonplace because of the population's highly controversial views of beauty; at the same time however, women who show clear signs of having had work done are looked down upon, making the country's treatment of aesthetic surgery a double-edged sword.
Procedures for pets
According to one of South Korea's biggest newspapers, Chosun Ilbo, people are even making their pets undergo plastic surgery procedures. Popular procedures for pets include tail shortening, ear trimming, double eyelid surgery and even Botox.
While these procedures are considered medically safe by pet owners and by the people who perform them, it would be wrong of me to give you the impression that plastic surgery for pets is common in South Korea.
63% of polled pet owners in South Korea believe that cosmetic surgery for pets is unethical and should be banned, while an animal rights group in the country has called the procedures animal abuse.
It is clear that while South Korea could safely be called the plastic surgery capital of the world, we should be careful not to allow ourselves to fall into believing that all South Koreans are obsessed with getting work done any more than we have obsessives in the UK.
If you're considering plastic surgery in the UK, I am a London-based plastic surgeon with global experience. I hold a consultation with all my patients before agreeing to perform any surgery to ensure that they are aware of why they want plastic surgery, and what it implies. For more information, or to arrange your consultation, contact us at Harley Street Aesthetics today.
x
Virtual Consultations
Dr Kremer is now accepting virtual consultations, via Skype or WhatsApp. If you would like a virtual consultation, or would like more information, simply get in touch with us via phone, email or through our contact form and we will schedule a date and time for your consultation.