Does plastic surgery's television portrayal ever match the reality?
28 November 2014
By Plastic Surgeon Dr Dirk Kremer.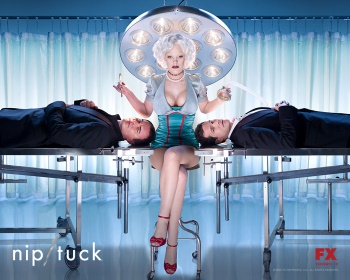 The portrayal of plastic surgery in the media often paints the industry in a negative light, with extreme makeovers, botched surgeries and cowboy practices usually taking precedence over stories of successful procedures. I have previously discussed the issue of cosmetic surgery reality television shows and the message that these programmes promote, but the audience of these programmes dwindle in comparison with the numbers that tune into scripted television shows. The depiction of plastic surgery in fictionalised programmes therefore has more of an influence on a global audience, and viewers are forming an opinion of the industry based on a fleeting depiction within the series' long-term production. But what aspects of the industry do these shows get right, and more importantly, how often do they get it wrong?
Missing the mark?
The award-winning American television drama Nip/Tuck, created around the premise of two plastic surgeons owning a controversial cosmetic surgery centre, featured graphic depictions of cosmetic procedures in each episode. These surgeries ranged from popular procedures, such as breast augmentation, to more extreme examples, such as facial reconstruction. The series itself was heavily criticised by the American Society for Aesthetic Plastic Surgery (ASAPS) who dismissed the portrayal as "absurd" and the doctor/patient relationships as "disturbing". Even the series' title trivialises the industry, reducing complicated procedures into the idea that they can be quick-fixes – just a 'nip' here, or a 'tuck' there.
However, given that the purpose of the show is to entertain rather than educate, a considerable amount of drama is to be expected and, as such, the audience shouldn't be assumed to view as fact the unrealistic nature of Nip/Tuck. Rather, the series works to normalise the idea of plastic surgery for minor corrections, if the situation calls for it; for every exotic, extreme and unrealistic plastic surgery procedure on the show, there is also a boob job for a breast cancer sufferer, an arm lift to remove excess fat after a successful exercise programme, and a confidence-boosting facelift.
A question of morality
The beauty of fictional television shows is that writers can use the audience's suspension of disbelief to explore potentially controversial subject matters without the ethical limitations that are placed on reality television. For example, in one episode of courtroom drama Franklin and Bash, the eponymous lawyers represent a woman who claims that her plastic surgeon husband forced her into having surgery that made her resemble his previous girlfriend. To the cosmetic surgeon of the show, his ex-girlfriend represented his idea of beauty, causing him to subconsciously alter his wife's appearance in her image and whilst the morality of a surgeon who enforces their individual perception of beauty on a patient without permission is not likely to become an issue in reality, it is nevertheless a problem that can be safely explored in a fictional television world.
Similarly, the hospital-based sitcom Scrubs broadcast a number of episodes over the course of its nine year run that explored whether or not a patient should receive surgery but it was featured most significantly in an episode involving a 16-year-old patient scheduled for a breast augmentation procedure. The surgery causes one of the surgeons (Dr Turk) to take moral offense to a patient receiving this surgery at such a young age, and he unsuccessfully tries to get the surgery delayed until the patient is older. It is only once the patient is able to discuss her reasons for wanting the surgery with Dr Turk that he eventually understands her decision and accepts that the patient knows her own mind and can make her own decisions regarding her body.
What does this mean for the industry?
The recurring theme of these fictional examples is ultimately the importance of doctors forging a healthy relationship with their patients, and listening to their reasons for undergoing plastic surgery without a personal preference interfering with the results. It is imperative to remember that on television, cosmetic procedures and their associated issues have to be exaggerated to fit the series, whether that means that surgeries end up being overly-dramatised or trivialised through comedy. Ultimately, I think that if the way the cosmetic industry is portrayed on television continues to encourage debate over the necessity of procedures, highlight the importance of a qualified surgeon and emphasise the role of the patient in the choices they make, then the industry can only benefit from the increased exposure.
If you're choosing to undergo aesthetic surgery, I believe that you must trust your surgeon and be fully aware of what to expect before you can fully make up your mind. At Harley Street Aesthetics, we offer a personal service to every one of our patients and ensure that having surgery will be life-changing for all the right reasons.
x
Virtual Consultations
Dr Kremer is now accepting virtual consultations, via Skype or WhatsApp. If you would like a virtual consultation, or would like more information, simply get in touch with us via phone, email or through our contact form and we will schedule a date and time for your consultation.