Should you combine multiple cosmetic procedures? Dr Kremer comments
18 July 2014
By Plastic Surgeon Dr Dirk Kremer.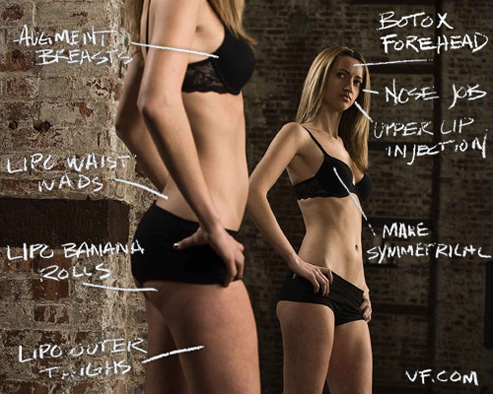 A question that I am frequently asked is: "can multiple plastic surgery procedures be performed in one single operation?" The quick answer to this question is yes (you've certainly heard of extreme cases such as Heidi Montag who underwent 10 procedures in one day...); however, it's imperative that all safety concerns be addressed sufficiently beforehand, and that should only happen when combining cosmetic procedures is the best option for the patients. Each patient is unique, and so multiple aesthetic procedures will naturally have different outcomes on their bodies.
In this blog, I explore some of the advantages and disadvantages to having multiple cosmetic procedures at once, and offer my advice for anyone thinking of having multiple aesthetic procedures in one sitting.
Advantages of combining plastic surgery procedures
The most obvious advantage to having more than one cosmetic procedure in a single sitting is that it saves time; the patient requires only one surgery and resulting in a single recovery period, as opposed to multiple surgeries requiring numerous recovery periods, possibly resulting in extra time off work, and a multitude of consultations with your plastic surgeon.
Further advantages to combining plastic surgery procedures is the lowered cost to the surgeon and their organisation. Undergoing multiple surgeries at once requires a single anaesthetist, one consultation and one hospital bed. This will reduce the overall cost for your surgeon, and could see the cost of your surgical procedure drop slightly as a result.
Talking about anaesthetics, since many surgical procedures require general anaesthesia, which always involves risks, going under just once may be considered 'safer' (although you have to think about the fact that the anaesthesia will have to last longer, which can also be risky).
It is important to remember that if you desire multiple plastic surgery procedures, you should consider where on your body your surgeon will be operating. A facelift, for example, can easily be combined with a nose job (rhinoplasty), or other facial cosmetic procedures. Likewise, a breast augmentation or reduction procedure could be combined with liposuction or a tummy tuck (abdominoplasty) as they are located on the same area of the body. As such, I wouldn't recommend a breast augmentation with a buttock lift, as moving a patient during surgery could cause serious complications.
Disadvantages of combining plastic surgery procedures
Combining aesthetic procedures does give rise to a number of potential complications. While a single dose of anaesthetic and requiring the services of an anaesthetist only once may be cheaper, it would need to be a stronger dose, which, depending on the individual, could have a negative effect on the body; the more procedures, the longer a person will be under anaesthesia leading to an increase in the chance of potential complications, such as excessive blood loss.
Furthermore, while one recovery process may sound appealing, the process will be significantly longer, and potentially more painful and incapacitating, as more of your body will need time to recuperate. Depending on the individual, this can cause serious complications, and as such I wouldn't recommend multiple cosmetic surgeries for an individual who is not fit and healthy – I actually would not recommend undergoing any cosmetic surgery to someone who isn't fit and healthy.
Advice for people thinking of combining surgical procedures
Combining plastic surgery procedures is possible, but as I've mentioned above, it presents both advantages and disadvantages which need to be discussed with your plastic surgeon. Above all else, ensure that your surgeon is a Board Certified Plastic Surgeon, as this guarantees that your health and safety is their main priority. Once you've found a plastic surgeon, arrange a consultation with them to see if you feel comfortable with them (trust is important); this will also allow the surgeon to discuss your wishes and inform you of any complications that could arise. If you are in any doubt as to the status of a Doctor, you can check their status through the General Medical Council.
If you're interested in combining plastic surgery procedures here at Harley St Aesthetics, please contact my team on 0845 519 7232 or email info@harleystreetaesthetics.com to arrange an initial consultation with me. The safety of my patients is paramount, and I will only sanction multiple cosmetic procedures if I feel it's safe.
x
Virtual Consultations
Dr Kremer is now accepting virtual consultations, via Skype or WhatsApp. If you would like a virtual consultation, or would like more information, simply get in touch with us via phone, email or through our contact form and we will schedule a date and time for your consultation.