Men's health - The Alan Titchmarsh Show
14 February 2014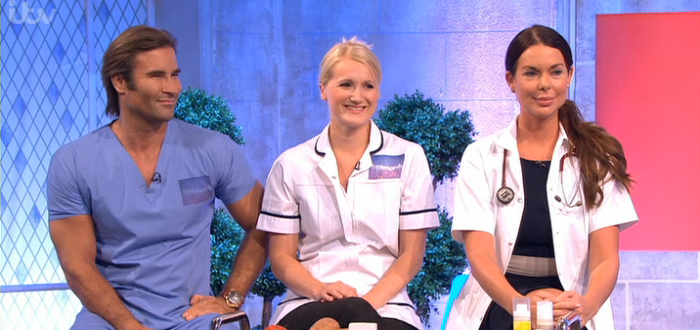 By Plastic Surgeon Dr Dirk Kremer.
We've reached the final episode in season 13 of The Alan Titchmarsh Show and on the final episode, broadcast on November 13 2013, Dr Anita Sturnham, dietician Lucy Jones and I spoke about men's health, in particular testicular cancer.
Movember
The topic of men's health was discussed as the annual event known as 'Movember' takes place in November. 'Movember' is a month long event where men across the globe grow a moustache to raise money and awareness about testicular cancer and other male health issues.
According to Dr Anita Sturnham, men make the worst patients as they leave visiting their GPs to the last minute, by which time a problem may have manifested into a more serious issue. Many men can also feel nervous or embarrassed about talking about sensitive issues. 'Movember' aims to remove this stigma and get men talking about health problems more honestly and openly with their doctors.
Testicular cancer
Unlike most cancers which traditionally affect people over 50-60, testicular cancer primarily affects younger men aged between 15 and 45 years old. This can result in a double edged sword scenario as many men this age feel they're fit and healthy and don't regularly check their testicles for lumps and changes in size. This simple test could be lifesaving as its most common symptom is a painless lump on the testicle.
If you're aged between 15-45 it's imperative that you check yourself at least once a month; the best time would be after a warm bath or shower as the scrotum will be looser and any lumps will be easier to feel. Symptoms of testicular cancer can include, lumps on the testicles, pain in the lower abdomen or lower back, blood in the sperm, a feeling of dullness and heaviness in the scrotum or gynaecomastia as a result of hormonal changes.
If caught early testicular cancer can be easily treated by removing the infected testicle, this procedure is known as an orchiectomy. There is around a 90%-100% cure rate for testicular cancer if the cancer hasn't spread to other areas of the body. However, even if it has, there is around an 80% survival rate due to the advancement of radiation and chemotherapy treatments available.
Many men who have an orchiectomy choose to have a prosthetic testicle inserted, primarily for self-image. It is important to remember that fertility is not affected by the removal of one testicle and a man can continue to father children as normal. The surgery to insert a prosthetic testicle is fairly simple and lasts roughly 20 minutes. In most cases this can be performed as a day case and the patient can go about his normal life within a couple of hours of the procedure.
While plastic surgery cannot cure testicular cancer it can help men who may suffer from gynaecomastia as a result of their cancer. If you'd like to speak with me, please get in touch today to organise an initial consultation. Remember only 1 in 5 men actually check their testicles regularly, make sure you're one of them!
x
Virtual Consultations
Dr Kremer is now accepting virtual consultations, via Skype or WhatsApp. If you would like a virtual consultation, or would like more information, simply get in touch with us via phone, email or through our contact form and we will schedule a date and time for your consultation.