Weight loss surgery - The Alan Titchmarsh Show
20 December 2013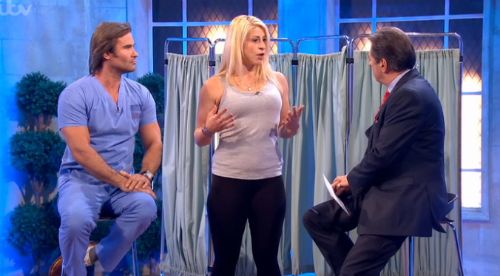 By Plastic Surgeon Dr Dirk Kremer.
On the 16th October I again appeared on the Alan Titchmarsh Show to tackle a range of medical problems and answer any and all questions people have about plastic surgery. On this episode I spoke about the different plastic surgery options available for people who have been through dramatic weight loss.
Tummy Tucks (Abdominoplasty)
Many people who have undergone dramatic weight loss are usually left with saggy skin that no amount of exercise will fix. The only option for this skin is a tummy tuck (abdominoplasty). This operation is designed to tighten the abdominal wall by removing excess fatty tissue and skin folds around the tummy. The plastic surgery procedure will remove stretch marks where possible but it's not always possible to remove every stretch mark across the stomach.
The procedure is performed under general anaesthetic and the surgery usually takes around three hours to complete. After surgery you usually stay in hospital for 1-2 days so that you can be monitored and that any complications can be ruled out. Drains are removed the next day if possible but you may be discharged with them and they will be removed later, on an outpatient basis. You will have to wear a tight pressure garment for 6 weeks and stitches are usually removed after 12-14 days. After 2 weeks you'll be able to resume light physical activities, but please only do what you feel comfortable with. Avoid sports for 6 weeks.
A good result is if a harmonic body contour is achieved with a very low scar which can be easily be hidden in a bikini. I put special focus on creating the most realistic looking belly button.
Breast Augmentation
Breast Augmentation, or a breast implant as it's also known, is a useful procedure for women who have undergone dramatic weight loss and suffered loss of shape or volume as a result. My signature Split Muscle Breast Augmentation procedure will give the breasts shape and volume again. My signature procedure doesn't damage the muscle and is much less painful than traditional breast implant procedures as less volume is squeezed under the muscle. It creates a perky teardrop shaped breast with enough muscle covering the upper pole of the implant to prevent it showing through the skin.
Most breast augmentation procedures require an overnight stay in hospital. The procedure is performed under a general anaesthesia and usually takes 1 hour to complete. After the surgery it's normal to feel discomfort over the chest but that should subside after 4-5 days, after that your breasts may feel swollen or tender to touch. You will have to wear a special support bra for 6 weeks, and stitches are removed after 10-12 days. You should avoid sport especially exercising the upper body for 6 weeks to give the implant the chance to heal in the pocket properly.
Breast Lifts
Breast Lifts are the perfect way to recover the shape of your breasts without needing to add implants. A breast lift or a mastopexy as it's also known involves the lifting and shaping of the breast without increasing the size. This is performed by rearranging the breast tissue, increasing breast firmness and shifting the nipple position. Skin of the ptosis breast is removed during surgery while breast tissue is not removed. The patient is left with scars around the areola, a vertical scar and horizontal scar.
If the patient has lost too much of their breast tissue and is left with a lot of loose skin there are three options available:
1. A patient can fill the loose skin with a big enough implant to make it look full. This will leave a patient with just a scar in the submammary fold. It will give the breast a minor lift. It is more suitable for older patients whose breasts naturally show a certain degree of ptosis.
2. If a patient doesn't want a foreign body implant, the only option is a mastopexy. The result is dependent on the amount of remaining breast/fat tissue and a small to medium size breast can be left with scars around the areola, a vertical and even a horizontal scar, however the uplift can have dramatic results.
3. If a young patient wants to restore the fullness, size and height of their breast before the weight loss, they will have to combine a breast augmentation with an uplift/mastopexy.
Breast lifts are performed under a general anaesthetic and an overnight stay in hospital may be required depending on the results. Patients have to wear a support bra for 6 weeks. Stitches are removed after 12-14 days. A breast lift procedure isn't very painful and patients can go about daily routines within a few days. However, you should avoid raising your arm above your head for at least 2 weeks and you should avoid heavy lifting and sports for 6 weeks.
If you're interested in any of the plastic surgery procedures mentioned in this blog or throughout my website please get in touch and arrange an initial consultation. During the consultation I'll provide you with all the information and advice you'll need when choosing where to go next.
x
Virtual Consultations
Dr Kremer is now accepting virtual consultations, via Skype or WhatsApp. If you would like a virtual consultation, or would like more information, simply get in touch with us via phone, email or through our contact form and we will schedule a date and time for your consultation.