Breast Cancer Awareness Month - The Alan Titchmarsh Show
06 November 2013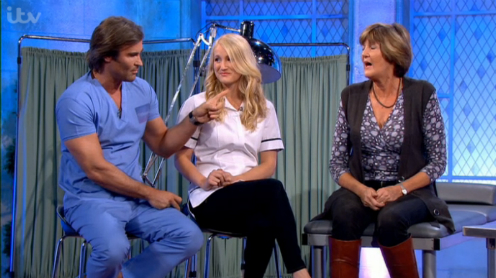 By Plastic Surgeon Dr Dirk Kremer.
The Alan Titchmarsh Show that was broadcasted on the 2 nd October touched on a very important topic - breast cancer. Breast cancer affects around 55,000 people in the UK every year and, sadly, 1 person is diagnosed every 10 minutes in the UK
October is Breast Cancer Awareness Month, so it was only fitting that we discussed diagnosis, treatments and misconceptions about the disease. Breast cancer is the most common form of cancer in the UK with 1 in 8 women developing the disease within their lifetime. However, men are also susceptible to it, around 400 men in the UK will develop the disease every year.
During the show my friend Dr Anita Sturnham spoke about the importance of regular checks and speaking with someone if you have any worries. Too many people are scared to speak about their breasts and this shouldn't be the case. The important thing to remember is that if you feel or notice anything unusual for you about your breasts you should speak with your GP immediately.
During the show I spoke with Heidi Rehman who twice underwent a double mastectomy to remove her breasts in order remove the cancer. For many women who undergo a mastectomy the removal of their breasts can make them feel less of a woman and many choose to undergo reconstructive plastic surgery. There are 2 options available for women looking for reconstructive surgery.
Breast implants
The first is breast implants (breast augmentation), which can help women regain their breasts and improve their body awareness and confidence significantly. Breast implants usually require an overnight stay in hospital but day case procedures can be arranged if it's absolutely necessary and safe.
Implants with patients' own tissue
The second form of cosmetic surgery available to patients is to use their own tissue to reform and shape the breast or breasts. This type of surgery (known as a breast lift) will see tissue taken from a patient's back for example and then used to reshape the breasts and nipples. These breast lifts are primarily designed to help improve the look of breasts rather than increase their size and they tend to leave women with smaller breasts. If you're looking for bigger breasts the recommended procedure would be a breast augmentation.
Age Spots
Following our discussions on breast cancer and the plastic surgery options available to women, we then took part in the usual open clinic session. During the session I spoke about age spots and how to treat them.
Age spots are not actually as a result of getting old, they are in fact due to over exposure to the sun. They are typically found on body parts not covered by clothes. So the head, hands, feet and neck can be extremely susceptible to them.
Typical treatments for age spots include creams and other forms of skin lotions, but Fraxel Laser Treatments are a very safe and effective treatment. The laser burns off age spots found on the skin to create small wounds. The healthy tissue then regrows over the wounds removing the age spots and leaving skin relativity blemish free. The procedure takes around 30 minutes but more than one sitting may be required if the spots continue to appear.
As the show was primarily focused on cancer, I recommend anyone with age spots to get them checked regularly (at least once a year) as they could be hiding something far more serious such as melanoma.
Medicine is so advanced today that we can fight cancer and even cure it, but it is important to check yourself regularly for lumps and any other symptoms of cancer. Medicine is most effective when cancer is diagnosed early. If you have any worries please see your local GP immediately and if you're thinking about plastic surgery, please contact me to talk about your requirements and to arrange a consultation.
Watch the full breast cancer episode on YouTube.
x
Virtual Consultations
Dr Kremer is now accepting virtual consultations, via Skype or WhatsApp. If you would like a virtual consultation, or would like more information, simply get in touch with us via phone, email or through our contact form and we will schedule a date and time for your consultation.