Post Pregnancy Tummies - The Alan Titchmarsh Show
23 September 2013
By Plastic Surgeon Dr Dirk Kremer.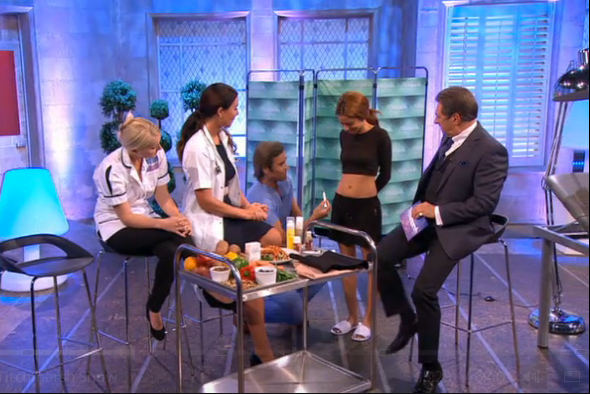 The new series of the Alan Titchmarsh Show is back and I'm happy to report that I have been asked again to take part in the show to speak about all things health and beauty. Every Wednesday I'll be giving my advice on everything from plastic surgery to sweaty feet!
The first of my appearances took place on the 11th September, and what a show it was. I was joined by my good friend Dr Anita Sturnham and dietician Lucy Jones.
Tummy Tucks
The first issue we spoke about was post pregnancy tummies. Many women may suffer from stretch marks after giving birth, this is completely normal and most subside on their own. However, some women may suffer from prolonged stretch marks that may not always disappear. We spoke about a range of non-surgical procedures that can be used to try and remove the stretch marks, such as exercise and post baby corsets which have an instant slimming effect.
However some women may require some form of plastic surgery; I first spoke about Fraxel Laser Treatments which take around 40 minutes and can improve stretch marks in around 75% of women who suffer from them.
I then spoke about tummy tucks (abdominoplasty), these should only be considered as a last result but they can help remove the extra skin lingering after a pregnancy. The surgery is completed under a general anaesthetic and takes around 3 hours to complete and requires a few months rest afterwards with only small amounts of physical exercise. It must be stated that women should only consider plastic surgery both surgical and non-surgical if exercise and a healthy diet haven't helped you get rid of your mommy tummy.
Sweaty Feet
Later on in the show Dr Anita Sturnham, Lucy Jones and I took part in an open clinic session where members of the public tell us about any problems they may be having and what we can do to help. We spoke about how beetroot bread can lower a person's blood pressure by a small margin as well as how to tackle itchy skin.
We also spoke to a woman who was suffering from sweaty feet (Hyperhidrosis). My advice was Botox injections in the feet, the process would involve injecting 20 little injections into the feet, to help reduce the excess sweat. The results would then last around 4-8 months so a patient would only need around 2 treatments a year. The cost of each treatment would be roughly £600. I also stressed that these Botox injections are only for hyperhidrosis and not smelly feet! Smelly feet is not a surgical issue and there are more traditional medical treatments for this.
I hope you enjoyed the show and make sure you tune in every Wednesday when I'll be tackling more plastic surgery issues and return for another open clinic session. If any of the topics we spoke about affect you and you'd like to speak with me about any form of surgery please contact me, but remember that plastic surgery should not be entered into without prior thought and consultation. I'll only recommend cosmetic surgery if I feel it is the right decision for you!
x
Virtual Consultations
Dr Kremer is now accepting virtual consultations, via Skype or WhatsApp. If you would like a virtual consultation, or would like more information, simply get in touch with us via phone, email or through our contact form and we will schedule a date and time for your consultation.