Your guide to choosing a plastic surgeon in London
25 June 2021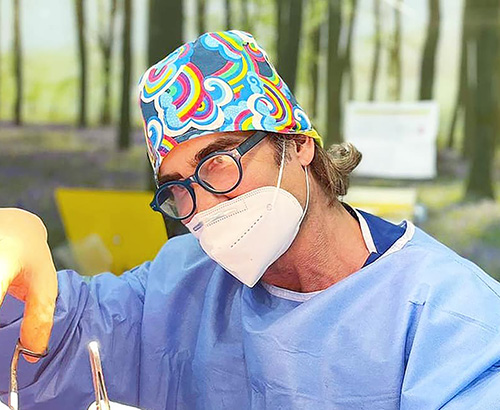 By plastic surgeon Dr Dirk Kremer.
When it comes to choosing a plastic surgeon in London you may feel overwhelmed at the wide range of surgeons and clinics available to choose from within just one city - albeit one very busy and bustling capital city. There are plenty of tools at your disposal to help with your search, such as scouring results from search engines like Google, absorbing attention grabbing social media ads and accounts, reading through online reviews and asking friends and family for referral recommendations.
These tools can all go some way towards helping with your search, but when using them you must still remain diligent as there are many misleading advertisements and marketing strategies that may not necessarily align with the skills and experience of the plastic surgeon deploying them. To avoid these pitfalls and successfully navigate your way through the list of plastic surgeons available in London you must make sure you're well informed so that you can guide yourself in the right direction.
To help ensure you're well informed I've listed a few key questions you should consider when sourcing your plastic surgeon.
Is the plastic surgeon board-certified in plastic surgery?
It's imperative that you first ensure that any plastic surgeon you are researching is board-certified. A board certified plastic surgeon is one that has passed extensive training and examinations set by a particular board - and this takes many years to achieve as well as ongoing training for the surgeon to maintain board certification in the future. As well as perfecting the technique and knowledge of a plastic surgeon, board certification programs also include rigorous training in other aspects of plastic surgery so that the surgeon can meet all ethical and surgical principles of plastic surgery.
Learn more about why it's important to choose a board certified plastic surgeon.
Does the plastic surgeon have adequate experience with the procedure?
With such a wide range of plastic surgeries available on the market it's important to understand that surgeons will have a different level of experience with each procedure. For example, just because a plastic surgeon has a wealth of experience at performing breast augmentation procedures for younger women it doesn't necessarily mean they have similar experience with carrying out facelifts on older people. With that said, many plastic surgeons who have been practicing their profession for decades will have a great deal of experience in a range of surgeries, but it's still worth checking they are comfortable and highly skilled to carry out the particular procedure you're interested in.
Where does the plastic surgeon perform the procedures and do they offer hospital privileges?
Make sure that any plastic surgeon you're researching performs their procedures at a hospital, clinic or similar that completely complies with the rigorous standards of that country. You should also check that the plastic surgeon offers hospital privileges either at the location or through a nearby hospital. In many cases patients will be required to remain overnight so that their condition can be closely monitored immediately following the surgery, so you want to ensure you are going to be in the safest hands possible with the highest levels of care.
Do you feel comfortable with the plastic surgeon and the clinic?
When you attend your initial consultation with a plastic surgeon and reflect on how it went, think about how comfortable you felt in their company and how you felt about the atmosphere and surroundings of the clinic. You want to feel as though you have built a positive rapport with the surgeon and not come away feeling pressured into rushing a decision. You want to fully believe that the surgeon has your best interest at heart and take comfort from their expertise and the way in which they communicate things to you. Question whether the surgeon is outlining realistic expectations from achievable results and offering you the best recommendations.
Finding the right plastic surgeon may seem like a daunting task, but with the right research and by scheduling consultations with a shortlist, you'll be able to find a trusted surgeon that meets all of your criteria and makes you feel comfortable about your options. Undergoing plastic surgery is a big step to take in your life so try to enjoy the process that will lead to this positive change, and should you feel uncomfortable at any point, perhaps you should revaluate whether this is the right time for you to consider plastic surgery or if you have yet to find the right plastic surgeon for you.
Are you considering plastic surgery and looking for a board-certified plastic surgeon in London with a wealth of experience? If so, consider contacting me here at Harley Street Aesthetics so that we can discuss your situation and procedure options in more detail. You can call 0845 519 7232, e-mail info@harleystreetaesthetics.com or simply complete the online contact form.
x
Virtual Consultations
Dr Kremer is now accepting virtual consultations, via Skype or WhatsApp. If you would like a virtual consultation, or would like more information, simply get in touch with us via phone, email or through our contact form and we will schedule a date and time for your consultation.