Head injuries, scarring and ageing eyes - The Alan Titchmarsh Show
20 November 2013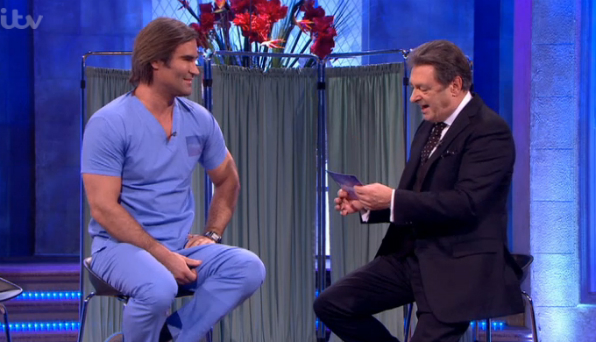 By Plastic Surgeon Dr Dirk Kremer.
Now in its fifth week, season 13 of the Alan Titchmarsh Show is flying by. On the 9th of October my friends Dr Anita Sturnham and dietician Lucy Jones joined me to discuss everything from head injuries to ageing eyes.
Head injuries
The first health issue we spoke about was head injuries. Head injuries are the most common type of injury found in the UK and the injuries can range from small bumps and bruises to more serious problems such as brain bleeding or skull fractures. If you've suffered a head injury and feel like you may have suffered serious consequences it is imperative that you call 999 immediately. Don't wait to see if the pain or bleeding subsides!
If your head injury isn't particularly serious you can follow a very simple ABC procedure. This technique is designed to test your alertness and balance as well as any cuts, bruises, any disability and your eyes. If you have suffered a head injury, you may feel well, but you should refrain from driving and operating heavy machinery for at least 24 hours. It is also advisable that you don't drink alcohol, especially if you're taking any medication for the pain!
Scarring from a head injury
Many people who suffer a moderate to serious head injury can also suffer from scarring. These scars can range in size and colour but it's important to remember that there is little you can do to cure them straight away.
Over a year scars heal themselves. They typically go from a red/dark red to a white colour and leave very little evidence of their existence. However if the scar is exposed to too much UV light the scar will go brown and will leave a permanent mark on the skin. To be safe I recommend people use sun screen if their scar is located on areas which see a lot of direct sunlight.
After a year, if the scar hasn't healed itself properly, there is a surgical procedure than can help. These are called IPL laser treatments; they diminish scar tissue over a period of months to leave the skin reasonably blemish free. These IPL laser treatments need to be repeated once a month until the scar has been removed.
Eye Lifts
To finish the show I spoke about eye lifts and in particular my TBT- Eyelift (blepharoplasty). As we age our eyelids start to droop and the membrane that retains the cushioning fat in the orbital rim starts to weaken. This causes the fat to herniate out leaving eyes looking puffy, saggy and tired.
Most traditional eye lifts cut through this membrane while removing excess fat. My TBT-Eyelift is revolutionary as the procedure doesn't cut through the membrane; instead I collect the fat and use it to strengthen the membrane and the scar is hidden in the natural eyelid crease.
My TBT-Eyelift can be done under local or general anaesthetic depending on your preference. You are usually free to go home around an hour after surgery and you can start your typical eye care routine such as make up and mascara 4-5 days after.
If you're thinking about my TBT-Eyelift, TBT Facelift or any other plastic surgery procedure please get in touch today. I'll provide you with all the information you'll need to make an informed decision as my decisions will always be made with your health in mind.
x
Virtual Consultations
Dr Kremer is now accepting virtual consultations, via Skype or WhatsApp. If you would like a virtual consultation, or would like more information, simply get in touch with us via phone, email or through our contact form and we will schedule a date and time for your consultation.