Is strong the new skinny?
24 July 2015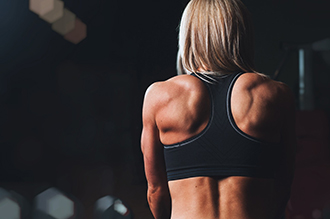 By Plastic Surgeon Dr Dirk Kremer.
As an experienced plastic surgeon, I believe that everyone is beautiful just the way they are and I actively encourage my patients to embrace their bodies - blemishes and all. However, I do understand that today's idea of beauty can prompt people to change parts of their bodies; but, times change and trends are very fickle things that lead to constant changes in the perception of health and beauty, especially for women.
For years now, women have been encouraged by society to look very slim, not too say skinny (just look at the recent Beach Body Ready advert in London by Protein World), which has resulted in some people turning to plastic surgery procedures such as liposuction or abdominoplasty to ensure they get the 'perfect' waistline and body image. However, it appears that society's view of health and beauty may be slowly changing. Following trends set by TV and movie stars, an increased number of women are after a more muscular body and are incorporating muscle building exercises into their daily workout routines – prompting many health & medical experts and journalists to ask: for women, is strong the new skinny?
Is the change from 'skinny' to 'strong' a good thing?
Medical experts in the United Sates have claimed that weight-bearing exercises can help women boost their immune system, improve their balance, lose weight more quickly following pregnancy, and stave off osteoporosis. I'm not a general practitioner or a weight/health expert, so I cannot comment on the truth of these claims, but what I can say is that exercising regularly and eating healthy can only be a good thing for everyone's overall health and fitness; if 'strong' is the new 'skinny', it must surely be healthier for women's bodies than some of the dangerous weight loss methods out there, for example, the crazy corset diet, excessive laxative use and even urine injections!
On the flip side, encouraging women to be more muscular is not a good thing if women resort to extreme measures to look strong. It's definitely not healthier to substitute crazy ways to get thin with foolish ways to build muscle, such as injecting strange/illegal steroids, calf implants or having foreign bodies such as Vaseline inserted into muscles to make them appear more 'buffed up'.
'Strong' the new 'skinny': different message, same outcome
Essentially, the 'strong is the new skinny' message is telling women that it's OK if you're not a size 2 because society now views being muscular as a better, healthier body image. However, I worry that this means that women who aren't 'strong' will be looked down on in society, just like women who weren't perceived to be 'skinny' have been for years.
I think that everyone (women and men) should incorporate physical activities into their weekly exercise routine because it's good for their overall health. It doesn't need to be rigorous weight lifting; Pilates and yoga have been proven to help build muscle effectively. Having a healthy diet and routine are great, and it's definitely much better than starving yourself to look skinny; however, I do hope that we can finally walk away from societal 'needs' to try to make everyone look the same. Surely, we should just stop putting labels on beauty and accept everyone for what they really are – beautiful, unique individuals.
Here at Harley Street Aesthetics, I only perform cosmetic procedures after a detailed consultation with my patients to ensure that aesthetic surgery is indeed the best course of action for them; I pride myself on putting the health of my patients at the forefront of any decision I make. If you would like to discuss a cosmetic procedure, you can arrange a consultation with me by sending an enquiry to info@harleystreetaesthetics.com or filling in our online form.
x
Virtual Consultations
Dr Kremer is now accepting virtual consultations, via Skype or WhatsApp. If you would like a virtual consultation, or would like more information, simply get in touch with us via phone, email or through our contact form and we will schedule a date and time for your consultation.