Hollywood's most sought after body parts
02 February 2011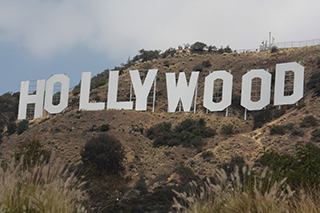 The perfect woman should have Taylor Swift's hair, Natalie Portman's nose and the body of curvy star Penelope Cruz, according to a survey by Hollywood plastic surgeons. She should also have Scarlett Johansson's lips, the cheeks of January Jones and the jaw line of Halle Berry. Add in the perfect complexion of Amy Adams and the mixture of body parts equals the ultimate woman.

The combination of features of the Hollywood stars makes up what people seeking plastic surgery believe would be the perfect look. The most sought after body parts of the rich and famous were revealed by two Hollywood plastic surgeons.

Dr Richard Fleming and Dr Toby Mayer carried out a survey among their patients to build up the picture of what the perfect woman would look like. The doctors said the trend for plump, luscious lips as sported by Angelina Jolie were no longer popular. Instead the pair said women preferred the lips of actress Scarlett Johansson. In the category of the most sought after body shape, former supermodel Gisele Bundchen and Jennifer Aniston were in the top three. But Penelope Cruz, who has just given birth to her first son, was voted as having the top body. The Spanish born star is known for her voluptuous figure.

Natalie Portman, who received an Oscar nomination for her portrayal of a ballet dancer driven over the edge in "Black Swan", has the nose most cosmetic surgery patients want. Emma Stone and Nicole Kidman were also named as having the perfect nose.

The Beverly Hills surgeons also compiled a list of the most desirable male features. Mad Men star Jon Hamm has the most desired jaw line, while others liked Jude Law's nose and George Clooney's hair. Mark Wahlberg, who showed off his toned physique in "The Fighter", was said to have the most sought after body. Channing Tatum and Tyson Beckford were also named as having the most desired body shape.

Dr Fleming and his partner produce a list every year based on a survey carried out among their current and former patients. "There are common features you find year to year," said Dr Fleming. "But these names are more a commentary about pop culture – whose face is in your face this year."

The full list:
BODY
Girls Gisele Bundchen Jennifer Aniston Penelope Cruz
Guys Mark Wahlberg Channing Tatum Tyson Beckford
NOSE
Girls Natalie Portman Emma Stone Nicole Kidman
Guys Jude Law Josh Duhamel Benn Affleck
HAIR
Girls Taylor Swift Jennifer Aniston Kim Kardashian
Guys Jon Hamm George Clooney Chris Pine
EYES
Girls Anne Hathaway Mila Kunis Megan Fox
Guys Hugh Jackman Jake Gyllenhaal Ian Somerhalder
LIPS
Girls Scarlett Johansson Angelina Jolie Christina Aguilera
Guys Ashton Kutcher Viggo Mortensen Brad Pitt
CHIN
Girls Halle Berry Keria Knightly Jennifer Lopez
Guys Jon Hamm Johnny Depp Robert Pattinson
CHEEKS
Girls January Jones Jennifer Garner Beyoncé Knowles
Guys Leonardo DiCaprio James Franco Will Smith
SKIN
Girls Amy Adams Kate Perry Gwyneth Paltrow
Guys Neil Patrick Harris Hayden Christensen Orlando Bloom

Hollywood's most sought after body parts

London-based plastic Surgeon Dr Dirk Kremer comments:

These stories are not uncommon in the press and indeed, each year the next 'favourite' celebrity body part is chosen and requests from patients begin.

I believe there is greater beauty to be found in facial symmetry and balance rather than one particular feature, after all, Scarlett Johansson's's lips and Natalie Portman's nose would not suit all faces. Facial shape and features differ immensely from person to person and the decision to change these natural characteristics should not be taken lightly.

As a plastic surgeon it can be helpful if a patient brings to consultation, an image of the feature they most like, especially when considering a nose re-shaping BUT you should always listen to the advice of your surgeon if he or she thinks such a feature would bring imbalance to your face. This is one of the reasons why you should always consult two or three surgeons before deciding on surgery.

Some procedures are temporary such as lip filling but the majority of surgical interventions are for life. It's almost impossible to reverse a nose re-shaping and more than two nose rhinoplasties can leave the nose looking odd instead of natural (think of Michael Jackson). Bigger or smaller breasts; full buttocks; chiseled chins; six packs and sculpted bodies can all be achieved with the knife – but is this the right choice for you?

x
Virtual Consultations
Dr Kremer is now accepting virtual consultations, via Skype or WhatsApp. If you would like a virtual consultation, or would like more information, simply get in touch with us via phone, email or through our contact form and we will schedule a date and time for your consultation.