Is a tummy tuck right for me?
28 October 2022
By plastic surgeon Dr Dirk Kremer.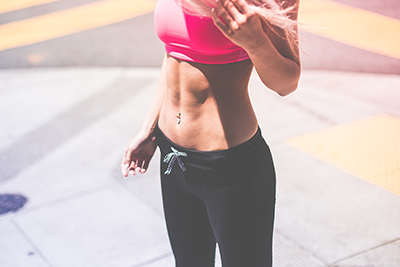 The stomach can be one of the most frustrating body areas when it comes to losing fat and toning up. It's an area that's prone to collecting excess skin and fat as the body undergoes natural bodily changes from things such as childbirth, aging and weight fluctuations.
Diet and exercise tend to take people so far, but many are still left unhappy and frustrated due to results seemingly hitting a plateau in terms of further improving the appearance of their stomach.
To put things right once and for all, many people look to surgical options - namely an abdominoplasty, more commonly known as a tummy tuck.
Patients often wrongly assume that a tummy tuck can be performed on anyone at any time to shed the fat and excess skin, leaving nothing but a slim, tight waistline that looks like something straight from a fitness magazine cover.
Sadly, that isn't the case, despite the fantastic results that can be achieved - for the right candidate!
What makes a good tummy tuck candidate?
A tummy tuck may be a safe and efficient procedure when performed by an experienced board-certified plastic surgeon, but like all cosmetic surgeries, that doesn't make it a procedure that should be taken lightly. There are certain criteria that should be met before a patient can be considered a good candidate for a tummy tuck.
Besides an in-depth conversation with your plastic surgeon about your health, lifestyle and the procedure, below are some indications that may mean you're a suitable candidate for a tummy tuck.
Read: 4 things to consider when choosing a tummy tuck
You have excess tummy skin
As part of the tummy tuck procedure, your plastic surgeon will need to cut a significant incision, and this could leave a noticeable scar if there isn't enough extra skin around the tummy to work with. This is one of the reasons many patients are ideal candidates for a tummy tuck after they have lost a significant amount of weight - it tends to leave them with a lot of excess loose skin around their midsection. With that said, simply having a lot of loose skin doesn't automatically make someone the perfect candidate.
You are healthy and well
One of the main requirements for any invasive cosmetic surgery procedure is good health. The tummy tuck may be a low-risk procedure when performed by an expert but underlying medical conditions could lead to a dreadful outcome. General anaesthesia causes the patient to be sedated, so for this they need their heart and lungs to be in good condition. Any connective tissue abnormalities or autoimmune diseases can negatively impact the healing process. Smokers are also advised to stop smoking well in advance of any cosmetic procedure due to the potential problems that could arise.
Read: The risks of smoking before and after plastic surgery
You don't plan on having any more children
If you're considering having children in the future, you should postpone getting a tummy tuck until you are 100% sure that you do not want anymore. Pregnancy after a tummy tuck won't lead to problems with an unborn child should you accidentally become pregnant post-surgery, but it can lead to the separation of healed muscles and your tummy skin being stretched again. To put this right, you would likely need to undergo another tummy tuck procedure.
You have lost enough weight
If you or your surgeon feel that you should lose further weight to get closer to your target weight before having a tummy tuck, then this is another reason to postpone undergoing the procedure. Continuing to lose large amounts of fat after a tummy tuck will encourage more loose skin to deposit around the midsection, which effectively undoes the good work that was achieved and increases the likely need for further tummy tuck revision procedures to be carried out.
Your expectations are realistic
A tummy tuck may be a procedure that can treat certain cosmetic concerns, provide an improvement to the physical appearance of the midsection while also giving a real boost of confidence to the patient, but it isn't an alternative to weight loss. It's important that a patient realises what sort of expectations they can expect from the result and understands that although the vast majority of patients are over the moon with their results, it isn't a magical cure. A cosmetic surgeon will want to ensure you are both on the same page when it comes to knowing what can or cannot be achieved.
If you're considering a tummy tuck or any other form of cosmetic surgery in London, you'll want to seek out an expert in the field. Here at Harley Street Aesthetics, I offer a wide range of procedures to meet your cosmetic surgery needs. To discuss your situation in more detail and find out if you'd be an ideal candidate for a certain procedure, don't hesitate to book in your initial consultation by calling 0845 519 7232, e-mailing info@harleystreetaesthetics.com or by completing the online contact form.
x
Virtual Consultations
Dr Kremer is now accepting virtual consultations, via Skype or WhatsApp. If you would like a virtual consultation, or would like more information, simply get in touch with us via phone, email or through our contact form and we will schedule a date and time for your consultation.