Blepharoplasty - Upper and lower eyelid surgery
17 September 2021
By plastic surgeon Dr Dirk Kremer.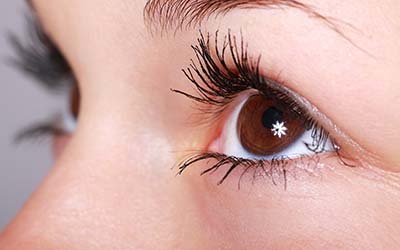 The eyes and eyelids are an area of the face that are very prone to showing physical signs of ageing. Unfortunately, this is something we will all experience eventually, though saggy eyelids and a tired appearance thanks to heavy bags under the eyes from the natural signs of ageing can creep up earlier on some than it does others. Sometimes people suffer drooping skin underneath the eyelids, whereas others have to deal with creases and folds forming on the upper eyelids. These are all unsightly and unwanted signs of the ageing process that can leave people appearing tired, fatigued and perhaps even older than they actually are.
Fortunately, there is something people can do to tackle this problem area. Advanced eyelid procedures, such as blepharoplasty (eyelid surgery), is used to safely tighten the eyelids by carefully and strategically removing excess skin and fat, leaving patients with an eye region that looks smoother and far more youthful.
Blepharoplasty can target both upper and lower eyelids
Eye lid surgery can be performed for both the upper and lower eyelids, depending on the problem area. The procedure works much like an eyelift by removing excess skin and fat in specific areas and is perfect for those who suffer from winkles, crinkled folds or sagging skin and bags under the eyes.
Both upper and lower eyelid surgery are procedures that are fairly straight forward to perform for any skilled and experienced plastic surgeon. The results that can be achieved from such a short procedure - sometimes within the hour depending on the patient - are truly remarkable, helping to transform the appearance of the eyes once fully healed in several ways, including reducing puffiness, smoothing out the skin and minimising the appearance of unwanted baggy folds.
Learn more about how I perform my signature TBT Eyelift procedure.
Upper eyelid surgery
Of the two eyelid surgeries, an upper blepharoplasty procedure is the quickest and can be completed in as little 40 minutes in many instances. The eyelid lift is typically performed under local anaesthetic and there is generally very little downtime, with most patients returning to most normal activities within just a couple of days. Of course, there is likely to be bruising and swelling that will gradually subside and some patients do suffer with some tightness and report difficulty with opening their eyes the very next day, so many people opt to take a week or so off work just incase whereas others prefer to wear sunglasses for the following few days when in public.
Lower eyelid surgery
Things are a little more complex when it comes to lower eyelid surgery, with the procedure typically taking somewhere between 1 to 2 hours. However, as with the upper eyelid surgery, the results that can be achieved can truly turn back time and rejuvenate your appearance. During the procedure a small incision is made either underneath the eyelashes or inside the eyelid, and patients are typically administered with general anaesthetic beforehand so that unwanted tissues can be removed totally pain-free. With that said, it is still technically possible to perform lower eyelid surgery under local anaesthetic, but the nature of the procedure means being safely sedated is the better option.
Have you been considering eyelid surgery? If you'd like to discuss the procedure in more detail, or would like to learn more about any of the other surgical and non-surgical cosmetic procedures that I perform here at Harley Street Aesthetics, don't hesitate to get in touch. You can book in your initial consultation by calling 0845 519 7232, e-mailing info@harleystreetaesthetics.com or by completing the online contact form.
x
Virtual Consultations
Dr Kremer is now accepting virtual consultations, via Skype or WhatsApp. If you would like a virtual consultation, or would like more information, simply get in touch with us via phone, email or through our contact form and we will schedule a date and time for your consultation.